Outsource Sales for Startups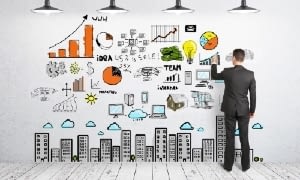 Entrepreneurs and Startups know that the key to sustainable growth is sales. Outsourced sales for startups can be a vital role in your growth as a company. Though the allure of quick money, and giving up equity in your company can seem like the only route, it isn't.
Constantly positioning your startup for VC funding and Angel Investors is not always necessary to build a company and watch it grow.
Entrepreneur Magazine quoted in their article "Actually, you don't need VC funding to succeed" some staggering statistics about funding:
"The traditional startup approach of building a business plan, making market estimates and pulling funding from VCs is riddled with risk and misconceptions. In reality, less than 1 percent of startups have raised capital from VCs. Venture capitalists generally invest only 1 percent of their own funds. The rest is from investors. The majority of those investors fail to earn a profit after fees from the VC firm. Even successful VC firms generate 80 percent of their revenue from 20 percent of their investments"
If only 1 percent of startups are raising capital what does that mean for the 99%? It means that startups who are serious about creating growth and scaling need to have sales. And to have repeatable and scalable sales you need a plan and a professional who can execute that plan.
Outsourcing sales for startups can be a vital role in your growth as a company. Here are a few things to consider and some questions to ask if you are thinking about outsourced sales for startups.
Do you have the in-house talent to properly execute your sales goals and plan? You may have talented engineers and the best UI Designer ever, but do you have someone on your team that is as talented and technical in sales?
Do you have the funds to hire a full-time sales person? Having a full-time, experienced sales person can be an expensive endeavour. Not just the salary and benefits. Don't forget factoring in things like recruitment, on-boarding, training, and retention costs. Not to mention, the effects of a bad hire for a business can be crippling, depending on your hiring budget and needs. Outsourcing sales for startups can be a cost-savings endeavour for a company that is growing.
Do you have the time to do sales, or manage someone who is? Anyone who has ever run a startup knows that the demands are never ending. While responsible for things like development, finance, setting the vision, human resources, and all the other obligations, sales can be overlooked and under serviced.  Outsourcing sales for startups can free up valuable time as you work to grow your business. What critical areas of your business could you be focusing on if you were not solely focused on sales and building your pipeline?
Outsourcing sales for startups can be a creative and resourceful option for companies looking to grow and gain marketshare. A great sales outsourcing partner can be a key strategy for companies who are looking to increase speed to market and reduce investment and risk.
While everyone in today's market is looking for cost effective solutions, don't forget that your time is always worth money. With another trusted partner focusing on infrastructure, training, management, systems and ultimately sales, your time becomes available to sow into your business elsewhere.
Are you looking for a sales team for your startup?
Wondering about outsourced sales for startups?
At SalesEvolve, our commitment is to always provide a professional sales outsourcing team to hit targets, grow revenue, build pipeline and win deals. We have worked with clients to launch new products and positioned startups for growth. We can scale beyond appointment setting or opportunity generation and we can drive deals through the pipeline.
We would love to chat with you, answer any questions you have, and see if we are fit to help you grow!