Companies know that lead generation is the lifeblood of any growing sales pipeline.
Leads are where it all begins. Without great leads, there are no opportunities, no closed deals and no revenue.
As companies look to grow, increase revenue & expand into new territories – there is no shortage of activities for sales staff. But how do you know where to begin? What activities will produce the ROI that you are looking for? What steps do you take first?

Customer acquisition is a tough game and volumes of material could be written on the subject, but here are some high-level, simple steps to get you started in the right direction.
Know your customer:
This might seem like an oversimplified statement – but knowing your customer is the one of the most important places to start.
Not all prospects are created equal and it is important to know your ideal customer, their wants, desires and the unique traits that define them.
Take time to look at your product or service with fresh eyes. Review what you are offering, your features your benefits and work to change your usual perspective & step into the eyes of your ideal customer.
Evaluate your current clients, understand their demographic, their organization & their behaviors. Use the data to make connections and create a profile that your sales team understands and resonates with.
How do your customers like to buy?
Now that you've taken time to know who your ideal customers are, take some time to understand how they buy.
Your B2B Lead Generation program should be the beginning of a sales model that thoroughly understands:
How your ideal customer buys
When your ideal customer buys
Where your ideal customer makes purchases
Why they would purchase your product or service
Some aspects of your ideal customers sales funnel may be unknown to you, or is subject to change, however a baseline understanding of how they buy makes all the difference in gaining leads.
Where do your current leads/customers come from:
Hubspot created an easy to understand "Lead Source" image that helps outline the channels and activities that typically produce leads. Understanding where your specific leads are coming from, helps to see gaps, inconsistencies and areas of success. If something is working don't fix it; but if something is lacking, then now is the time to revalue and re-calibrate. Your B2B lead generation will thrive if you have an understanding of what is working and what isn't.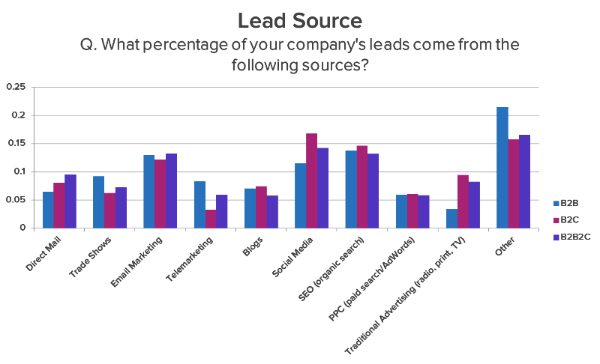 Effective sales messaging provides your ideal customer the insights they need about your offering, the confidence you can deliver and the information that a sales rep needs to lead effective meetings/demos/conversation all the way to close.
Potential leads and customers desire great knowledge of your subject matter, professionalism, great communication and some consultative skills to help guide them through the sale. Give them everything they need to be successful.
Everyone who touches a  lead in your organization should be saying the same thing, even though they might be delivering the content in different ways. Take the time to craft compelling, matching messaging that matters. The work you do now will be so meaningful as you begin to have meaningful conversations with potential buyers.
Start targeted lead generation campaigns:
Armed with all the information you've gathered you can begin to create your action steps. Start testing your messaging on your ideal customers and work the data backwards to make sure you are being effective.
How many calls/meetings were made?
How many connects?
How many were qualified?
How many made it to demo?
How many closed?
What resonated with your messaging?
What didn't resonate?
What could you change?
Whatever methods you are employing to make lead generation happen, make sure your campaigns are targeted and effective. Utilize the work you've done to understand your customer, the way they buy, and the messaging that resonates. Cold calls, e-mails, social media, inbound marketing – everything should be working together to keep your pipeline full of leads.
—
At SalesEvolve, B2B Lead Generation is our specialty.
We take the time to evaluate what you have, what you need and customize our offering to your business.  Your sales pipeline will increase with fully qualified, high quality leads. The work is on us to find opportunities allowing your sales team to focus on closing them.  Customized and transparent, our sales solutions keep you up to speed through meetings, phone calls and open access to metrics.
If you're looking to grow your revenue and would benefit from working with a trusted and established B2B Lead Generation company, we would love to connect. Our motto at SalesEvolve is – it's always worth a conversation so let's get talking!